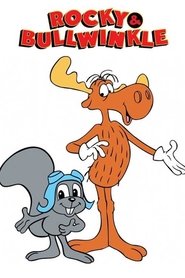 The Rocky and Bullwinkle Show Season 2 Episode 206
Frostbite Falls' gazette, the Picayune Intelligence, has a treasure hunt to build its circulation. Soon the notorious Babyface Braunschweiger has Bullwinkle in jail and the prize within his grasp.
Episode Title: Rocky & Bullwinkle - Buried Treasure (11) - Boris Badenov and His Friends?
Air Date: 1961-04-02
Year: 1961
Source of images: www.themoviedb.org
The Rocky and Bullwinkle Show Season 2 Episode 206